Digital Twin is defined as a model of the physical object or system, which provides context, provides connectivity between digital and physical assets and which transmits data in at least one direction and further provides ability to monitor the physical system in real time. (HVM Catapult, 2018)
Santane is at the forefront of this DT technology and our solutions assists our customers to have a complete digital overview of their assets / products throughout the life cycle from design to development and finally to end of life stages and thereafter use intelligent tools for decision making. Our solution enables asset owners and other users to get a holistic data view of their physical asset including operational data, service life data and other enterprise data. Access to this complete set of data and its visualisation in a user friendly format combined with expert knowledge of service engineers / operators help in contextualizing these data sets in order to create a decision support system. This system can then be utilised to achieve a number of improvement objectives related to the asset.
For implementing any Project for our client, there are various parameters to consider either whilst operating or interacting with Digital Twins. The factors considered include security, privacy, data governance, standards, APIs, IPs, cybersecurity, company policies, company practices etc. For the project implementation, the team makes sure all these are properly managed and secured. The companies have greater responsibility and accountability and so have to make sure that all the data management has been done as per the latest Laws and Regulations.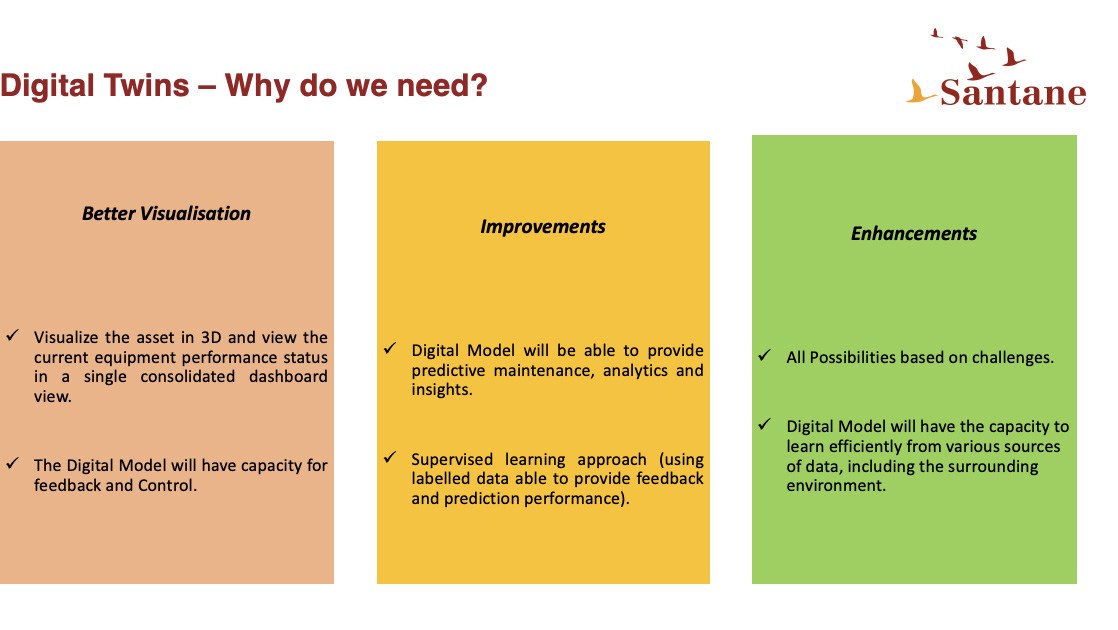 Santane assists customers in sectors such as Oil & Gas, Power, Chemical/Petrochemical and Renewables by adding value to their processes by improving their gross margin, improvising the operational performance, providing effective monitoring and control, and offering live data management to the operations of their assets.
Our services include:
Regulation and regulatory guidance;
Gap Analysis;
Preparation of 2D, 3D and Digital Twin models;
Integration of Plant Data in Digital Twin models; and
Identify and solve problems (e.g., debottlenecking and safety issues).